You are here
Back to top
Into Captivity They Will Go (Paperback)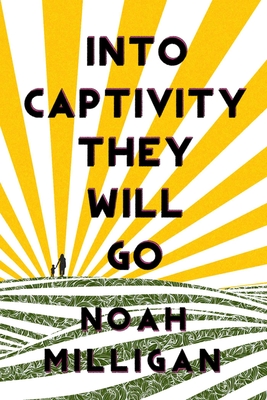 Description
---
"Deeply moving, sad and haunting..."—Brandon Hobson, National Book Award Finalist and author of Where the Dead Sit Talking

Into Captivity They Will Go is a story for our time, told with sometimes brutal emotional honesty and always with compassion."—Jennifer Haupt, author of In the Shadow of 10,000 Hills

Set in rural Oklahoma, Into Captivity They Will Go tells the story of Caleb Gunter, a boy whose mother has convinced him he is the second coming of Jesus Christ and that together they are destined to lead the chosen into the Kingdom of Heaven.

Believing the Seven Seals detailed in Revelation have been opened, he and his mother flee their home to join a tongue-speaking evangelical church and to prepare for the end of the world, but after tragedy ensues, Caleb must rebuild his life without the only support he has ever known—his mother and the church.

An exploration of familial bonds and extremist faith, Into Captivity They Will Go is a whirlwind bildungsroman that reveals the fragility of a child's identity. It is at once a study of guilt and redemption, and a book of how shattered trust can yet still lay the foundation for an entire life.
About the Author
---
Born and raised in the Bible Belt, Noah Milligan is the author of the novel An Elegant Theory, the short story collection Five Hundred Poor and a contributor to [Dis]Connected Volume 2.

His work has been named a semi-finalist for the Horatio Nelson Fiction Prize and a finalist for Foreword Review's 2016 Book of the Year. His short fiction has recently been published in Cowboy Jamboree, Orson's Review, Windmill: The Hofstra Journal of Literature and Art, and elsewhere.

He lives in Norman, OK, with his wife and two children.
Praise For…
---
"How Noah Milligan manages to evoke such authenticity and compassion in a story of this kind is a literary magic trick that'll convert even the most cynical." —Charles Martin, owner - Literati Bookstore

"Noah Milligan commands this novel with expert instincts, a deep consideration for language, and with his feet planted firmly within a world both tragic and all too familiar." —Sheldon Lee Compton, author of The Same Terrible Storm

"Noah Milligan's Into Captivity They Will Go is an ambitious and original novel that dares to explore – with both sharp-eyed clarity and full-hearted empathy – worlds and characters too often overlooked in contemporary fiction." —Lou Berney, author of November Road

"Fascinating. Heartbreaking. Powerful. Noah Milligan's novel, Into Captivity They Will Go, is all that and more. It is a story that will trouble your heart and mind long after the book is closed." —Jeanetta Calhoun Mish, Oklahoma State Poet Laureate & Director, The Red Earth MFA

"Deeply moving, sad and haunting ... it is an intense and propulsive novel exploring what it means to be alive and spiritual in a world ignoring such ideas. I loved its rich imagery, its crystal-clear prose, and its strangeness." —Brandon Hobson, National Book Award Finalist and author of Where the Dead Sit Talking

"Smart and gripping... Precarious lives stand as the backdrop for the siren's song of certainty offered by religious extremism, portrayed here by Milligan with sympathy and terror. The love and pain of the mother-son relationship, so rarely featured in contemporary fiction, is central to Milligan's compelling story." —Constance Squires, author of Along the Watchtower and Hit Your Brights

"Noah Milligan is a keen observer of the complexities of the human condition that make us long for family and belonging, and can also create tribalism and extremist faith. Into Captivity They Will Go is a story for our time, told with sometimes brutal emotional honesty and always with compassion." —Jennifer Haupt, author of In the Shadow of 10,000 Hills

"Into Captivity They Will Go is an immersive novel, capturing Caleb's mindset in a way that is believable and heart-wrenching. Its visceral events grapple with topics of abuse, blind faith, and moral gray areas. As a microcosm of an apocalyptic present, Milligan's clear understanding of Revelation provides a theological framework for his narrative that is compelling and terrifying." —Holly Jordan, Foreword Reviews